Electronic Peacekeeping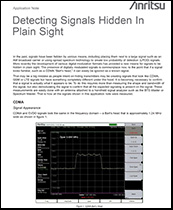 Signals can be hidden by various means, including placing them next to a large signal or using spread spectrum technology to create low probability of detection (LPOD) signals. The development of various digital modulation formats has provided a new means for signals to be hidden in plain sight. To confirm that a signal is actually what it appears to be requires more than measuring its shape and bandwidth, but also demodulating the signal. These measurements are easily done with an antenna attached to a handheld signal analyzer such as Anritsu's BTS Master or Spectrum Master.

To learn more complete the form to the right to receive your complimentary download of our application note: Detecting Signals Hidden in Plain Sight.

At Anritsu we are proud of the role our test and measurement products play in support of global peacekeeping operations - from electronic peacekeeping and ship to ship communications, to flight line testing and public safety networks. Our product capabilities include:
Free application note
"Detecting Signals
Hidden in Plain Sight"
Privacy Guarantee:The information you provide will not be shared with third parties or individuals without your consent.
Copyright© 2014 Anritsu Company. For more information, read our Privacy Policy Unsubscribe
Address: 1155 E Collins Blvd, Suite 100 Richardson, TX 75081 Phone: 1-800-ANRITSU
Privacy Guarantee:The information you provide will not be shared with third parties or individuals without your consent.
Copyright© 2014 Anritsu Company. For more information, read our Privacy Policy
Address: 1155 E Collins Blvd, Suite 100 Richardson, TX 75081 Phone: 1-800-ANRITSU