Anritsu Offers the Largest Portfolio of CPRI and OBSAI RF Measurement Instrumentation
Anritsu CPRI and OBSAI RF measurement capabilities enable engineers and technicians to look for interference problems of individual radios (RRH's) by identifying sources of interference on the radio uplink at ground level - reducing the use of tower climbing crews and operational expenses.

Major carriers and their associated contractors utilize Anritsu CPRI and OBSAI RF measurement capability on several of our handheld test
instruments, including the BTS Master™, Site Master™, Cell Master™ and Network Master™ Pro.

To learn more, complete the form to the right for a complimentary download of: Improving Wireless Network Flexibility Using CPRI Technology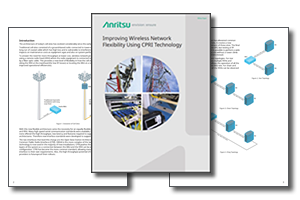 To answer the need for more throughput at lower cost, wireless network providers have moved to using a remote radio head (RRH) where the radio equipment is connected to the baseband unit (BBU) by a fiber optic cable. In this paper, you will learn about two interfaces that lead this charge: the Open Base Station Architecture Initiative (OBSAI) and Common Public Radio Interface (CPRI).

We'll need a correct email address to send your white paper.